Look forward to singing with you 
Welcome to the Winchester Fusion Choir website.  Here you will find the latest information about our wonderful choir, what's on, what charity we are raising money for and any other information that might be of interest.
We are a fabulous and fun choir and sing for the sheer enjoyment of singing. We also perform and raise money for local charities and good causes, but if you would rather not perform that is fine with us.  There can be nothing more enjoyable and uplifting than to meet every week to sing great songs along to fabulous music with wonderful people – that's what we do at the Winchester Fusion Choir, and everyone is welcome.
Term starts: 6th April-29th June (not meeting 8th June)
We meet at:
The Winchester Discovery Centre, Jewry Street, Winchester SO23 8SB.
Friday afternoons. Two choirs:
1.30pm-3pm (

we need bass, baritone and tenor voices

).  Tickets must be bought in advance for the full term.
4pm-5.30pm (open to all new members and all voices, we need sopranos).  Tickets can be purchased from the Discovery Centre. £5.50 per session or buy in advance for full term.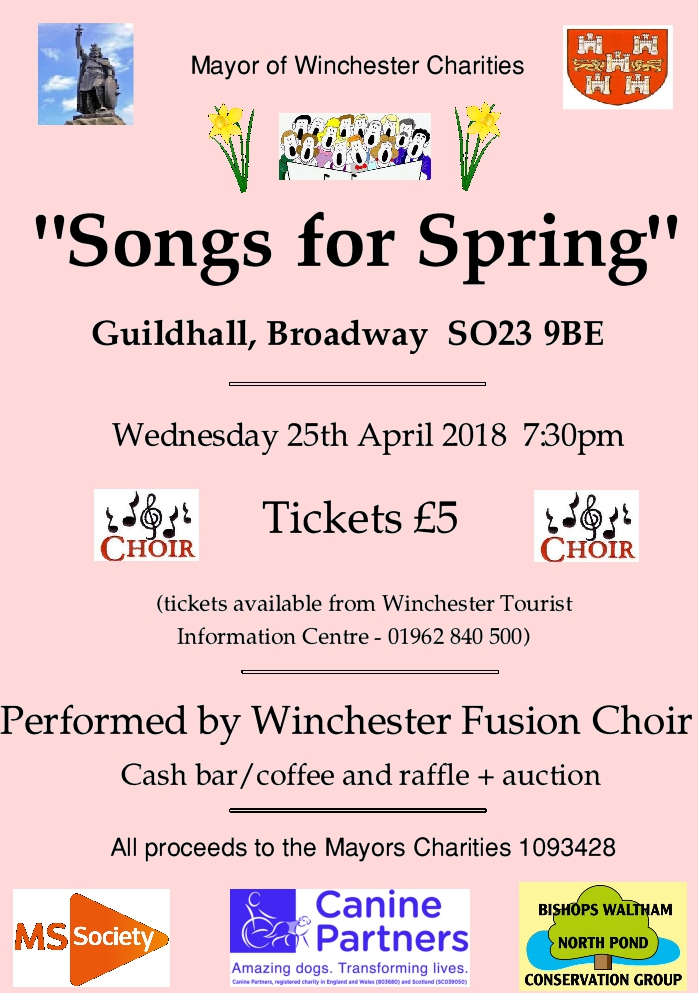 Both these choirs are now very busy and we are starting a waiting list. Best to buy your tickets for the full term to ensure your place.  At present new members are being accepted.  Come now and start singing with us.
Looking for an evening choir: go to: www.eastleighfusionchoir.co.uk
Why you should join our choir – there are health and social benefits to singing in a choir – read the article below.
http://www.theguardian.com/lifeandstyle/2015/dec/18/why-singing-makes-people-happy-oliver-burkeman
SINGING TO HELP OTHERS:
2015 – £4,000 + raised for charities and worthy causes.

2016 – £8,000 raised for charities and worthy causes.
£4,500 raised with other local musicians to send Isabelle to America for life changing surgery.
2017 – £2,800 raised at our Christmas Charity Concert for three local charities and we supported community events throughout the year where in excess of £5,000 was raised.
2018 – £1,200 raised at Winchester Community Choir festival together with other Winchester choirs for Mayor's charities
'Music is so powerful it needs to be used for some kind of redeeming work – to lift people's spirits, lift their souls.' Bobby McFerrin.
'I don't sing because I'm happy. I'm happy because I sing.' William James, philosopher and psychologist.
©